Pre-Owned Equipment
At Autoclave Engineering we carry a certain ammount of pre-owned equipement for sale. To see our current stock please refer to the panel below: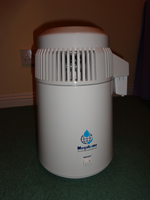 Price - £100.00 + Vat + Carriage
Just over a year old, bought from Canonbury, hardly used, great condition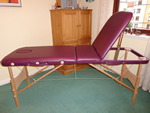 Price - £50.00 + Vat + Carriage
Purchased from Feel Good 2 years ago, hardly used, great condition. Model TM02 14.5kg in purple. Comes complete with carry case and all accessories, still in original wrappers! Adjustable back rest suitable for a range of therapies.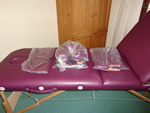 Price - £30.00 + Vat + Carriage
Cornwall Therapy purple face cradle & cover (original cost £21, never used), 3 large white bath sheets, 3 navy hand towels, 2 couch covers (navy with face hole & lilac without face hole).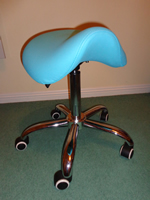 Price - £50.00 + Vat + Carriage
Designed to give the clinician an improved posture. Very light use over last 2 years, bought from Algeos, great condition. Adjustable height. Width 40cm, Height 50-65cm.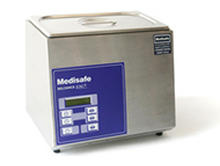 Price - £550.00 + Vat + Carriage
We currently have a second hand 5ltr Medisafe International Ultrasonic bath, the description and specifications can be found below. The unit is less than 15 months old, has only been used for 15 cycles and comes with a 3 month warranty. There is no printer but we can supply one at a further cost if one is required. This unit is ideal for a dental, tattoo or veterinary facility and complies with all the most up to date guidelines.
Reliance Digital / Digital PC+
This easy-to-use machines are at work throughout the world, decontaminating the most complex and delicate instrumentation. Patient care demands rigorous cleaning but surgical instruments are expensive and need to be handled gently. It is hard to imagine a more critical test. The good news is that the same ultrasonic methods can also be used to tackle cleaning problems in engineering workshops and laboratories. This is because industrial and medical cleaning have a shared objective: thoroughness, consistency and reliability.
The PC+ system monitors the critical cleaning process parameters making adjustments where necessary ensuring the 'validated' or 'clinically proven' process is maintained.
Critical process parameters such as time, temperature and ultrasonic power are monitored in accordance with current guidance and international standards and can be recorded permanently through a discretely placed 'data-port' which intelligently detects whether you wish to keep the information on a database device or simply connect a printer for 'hard copy' print out for 'traceability' and legislative issues*. ( PRINTER OPTIONAL)
*Accurate, detailed records of process parameters are required to be retained. (HSC 2000/032)
Features (Digital PC+)
High Grade corrosion resistant stainless steel with brushed finish (316)
Wash time or temperature display
Temperature and time user adjustable
APG3000 two transducer and APG XP sonic generator 4 to 10 horn transducers
Ultrasonic over-current protection
Flat panel heater to maintain selected temperature between times of inactivity
Drain: Manual Lever operated ball valve.
Lid interlock system to prevent Ultra-sonics running with the lid open
Stainless steel lid
Fused L & N, Fused Ultrasonic Generator and control PCB
Low fluid level protection to prevent heater and Ultra-sonics from being activated with low or no water
Control Fascia is wipe clean polycarbonate
2 line LCD display
Features (Digital PC+ only)
Printer output for process monitoring (RS232) 9 pin D (8 bit no parity 2400 baud):

Machine ID
Cycle number
Date & time
Wash time
Wash temperature
Ultra-sonics status

APG3000 & APG XP current monitoring
Specifications
Manufactured in the UK under Medisafe's IS09001 quality
For external cleaning of fine surgical instrumentation
Indoor use at altitudes up to 2000m
Operating temperature 15°C to 40°C
Humidity -80% RH max for temperatures up to 31°C, decreasing linearly to 50% RH at 40°C
Designed for Pollution Degree 2, i.e. not totally sealed
Power supply:

110-120 VAC 50 or 60Hz (not 2.5 or 5 Litre)
220-240 VAC 50 or 60Hz
0.5 Watts (standby)
600 Watts depending on model (in use)
1200 Watts depending on model (max)

Water supply:

Hardness: Not more than 115 ppm hot and cold (HTM2030)
Manual fill to wash temperature
Main drain: 18mm to drain (Hose supplied)
Max. flow to srain: 20 litres/min (gravity)
Max. temp. of effluent: 60°C
| | | 2.5L | 5L | 10L | 15L | 20L | 25L | 50L |
| --- | --- | --- | --- | --- | --- | --- | --- | --- |
| Outer Cabinet Dimensions | Height (cm) | 10 | 15 | 198 | 20 | 15 | 33 | 40 |
| | Width (cm) | 30 | 30 | 30 | 32 | 50 | 71 | 66 |
| | Depth (cm) | 11 | 15 | 24 | 30 | 30 | 44 | 55 |
| Wash Tank Volume to top edge | Litre | 2,5 | 5,0 | 10,0 | 15,0 | 20,0 | 25,0 | 50,0 |
| Digital Weight (wet, no load) | Kgs | 7 | 9 | 20 | 27 | 35 | 51 | 85 |
| Digital PC+ Weight (wet, no load) | Kgs | 7.5 | 9.5 | 20.5 | 27 | 35 | 51 | 85 |
| Number of horn transducers | | 2 | 2 | 4 | 4 | 6 | 8 | 16 |